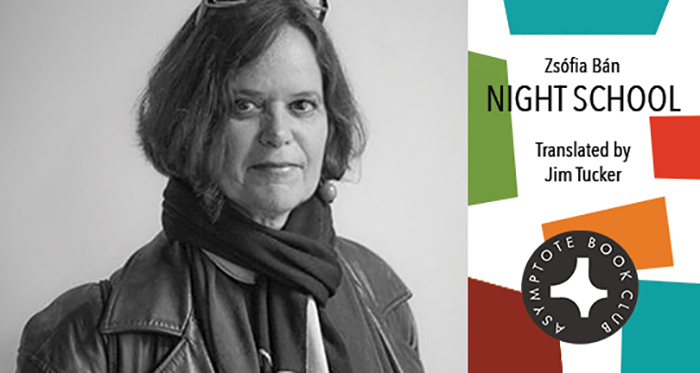 The Asymptote Book Club is back in session with Zsófia Bán's "Night School," where your classmates will include everyone from Frida Kahlo to Laika the space dog (first published in our Summer 2014 issue). Check out the syllabus here. Are you a resident of the US, UK, or the EU? Why not enrol in our Book Club? Subscribe by February 10 to start receiving the best of world lit delivered to your door this very month!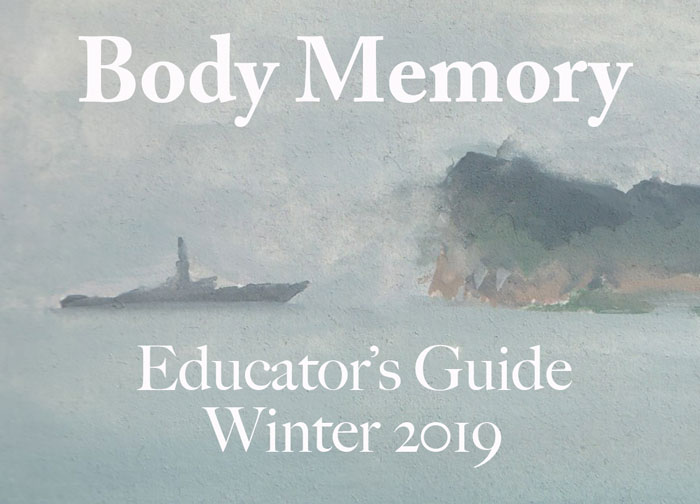 For all you pedagogues out there: this quarter's Educator's Guide is now available for download here! Visit the Asymptote for Educators web page to discover new ways to bring translation into your classroom. With writing prompts and reading suggestions galore, this guide will be sure to spice up any literary discussion. Share the wealth with all your educator friends and be sure to fill out this survey to give us feedback about our Guides! Your feedback is invaluable in helping us introduce global literature into the beautiful young minds all over the world.

In this conversation, editor-in-chief of Revista de Literatura Mexicana Contemporanea, UT-El Peso professor, and founder of Bagatela Press Bernardo Jauregui speaks with poet and translator Anthony Seidman about his latest translation publication, A Stab in the Dark (Palos de ciego), a collection of poems by Sonoran poet and journalist Facundo Bernal. Originally published in 1923, it is possibly the first Chicano text and is the first book from Los Angeles Review of Book's new publishing project.
Facundo Bernal, a long-neglected border author, writes about life in LA and in the border town of Mexicali, capturing the colour and flavour of Mexican and Mexican-American life in the first decades of the 20th century. Seidman's inventive translation recovers Bernal's essential work from a historical and geographical margin.
BERNARDO JÁUREGUI: If you strip away the formal aspects of poetry you are left with the essential, the logos. In that sense, does the content of A Stab in the Dark chime with the social conditions of today?
ANTHONY SEIDMAN: Yes. Surprisingly, the Border Region, and the extended environs of San Diego, Los Angeles, the Imperial Valley, and Mexicali, have not changed drastically. There remains the phenomena of the barrio, the segundo barrio in El Paso, and the awkward, yet dynamic reality of two countries divided by bridges, paperwork, and walls—and the Border Region continues to form a type of estuary where the two cultures comingle. Perhaps unwillingly. Perhaps enthusiastically. Out of caution, I regard myself as an observer. But I consider this very much a reality of the Guadalupe Treaty and the dynamics between the United States and Mexico. Recent heart-wrenching accounts of Central American immigrants, and their experiences in Los Angeles and the border region, strike me as coming from a different narrative and perspective. That is to say, I perceive the narrative of the Mexican/Chicano/Border experience—first set down in Bernal's book and in other early masterpieces, like Mariano Azuela's Los de Abajo (The Underdogs, 1929), which was written in El Paso—as more or less unbroken. The themes of A Stab in the Dark recur in the work of contemporary poets from the Southwest of the United States and Northern Mexico.
Would you say A Stab in the Dark is a pioneer of documentary poetry? The historical dimension informs both the content and the form of most of the poems. It could very well be read as a conceptual book.
I agree. I find that Bernal was most keen when creating his personae—Míster Blind and others… Much of his work reminds me of poets like Ed Dorn, Charles Reznikoff, or Louis Zukofsky, who enriched their poetry with transcripts, direct testimonies, creating a collage of voices from diverse socio-economic backgrounds. Bernal was a journalist, and he viewed his poetry as material for the daily papers. There are obvious parallels with the broadsheets of the great Mexican printmaker José Guadalupe Posada, as well as with the Anglophone poetic tradition. Bernal was a contemporary of William Carlos Williams and I don't think it's too much of a stretch to claim that A Stab in the Dark is something like Paterson, or Zone by Apollinaire. Bernal was creating not only Mexicali, the urbe, but the Border Region itself, from Baja California to Los Angeles, as a literary locus. Faulkner had his county, Joyce had his city, and Bernal, too, was both drawing inspiration from and inventing a place. His collection's main strength resides in its tensions—its cut-ups of newspaper items, its heteroglossia, its clashes between languages and customs. The conceptual aspect of the book is that the Border Region itself is speaking.
"A Major Bust" reports the arrest of drug dealers and "A Resounding Victory" chronicles a baseball game in the tone of a radio sportswriter. This is an anti-literary approach typical of Modernism. What is it about Modernist poets that we still find attractive?
It's all fun, right? The contrast itself, the friction between popular and lofty speech—Bernal employed meter—and the constant question posed: hat is the material of poetry? Williams also wrote a poem about attending a baseball game, as did Marianne Moore. But there's another dimension. Baseball was forbidden in Cuba and Puerto Rico prior to the Spanish-American War—it was viewed as a Yankee influence. Bernal is toying with cultural contraditions. Baseball was very popular in Mexico, despite it being from the United States, and Bernal points with great delight to the skill and prowess of Mexican players, who can defeat the Yankees at their own game.
Literature is now very much seen as a tool to oppose oppression. Almost a hundred years after its publication, Bernal's book touches similar concerns.
Again, I agree. Full stop. The book is very much "political," coming from the polis of Mexicali, as well as of L.A., Tijuana, San Diego, and it clearly situates itself within the rich and remarkable tradition of protest poetry in Latin America. As much as one may admire the exquisite voices of the Latin American canon, let us not forget the radical work of the Honduran Roberto Sosa, the Salvadoran Roque Dalton, and the Mexican Efraín Huerta, to name only three.
You seem to have a preference for translating poetry from Mexico, and lately from the Border Region. Could you tell me how this came about?
From life experience. I lived in Ciudad Juárez roughly from late 1995 to 2000, and the Spanish I learned was the Spanish of the Border Region. I did an undergraduate degree in Spanish Literature at Syracuse University, but the Spanish I spoke was merely functional, lacking any zest, any pepper, and I had to live in Juárez to pick up the slang, tone, nuance… but of a very specific Spanish, with its own history, weather, and depths. This Spanish I learned in Juárez helped me dig deeply into the Spanish of Tijuana poet Roberto Castillo Udiarte, and that resulted in my translation of a book titled Smooth-Talking Dog, published in 2016 by Phoneme Media of Los Angeles. Caló—English verbs transmogrified into Spanish—fed my ears and my imagination. Also, the first writers I met who were my age were from Juárez. I saw how fascinated they were by contemporary North American poetry, as well as the lyrics of poet-musicians like Leonard Cohen and Tom Waits. When I read the early poems of Edgar Rincón Luna, I detected a tone, a thematic range and use of the colloquial, that reminded me of the Beats, as well as of the Surrealists. I think it's also fitting that I discovered Salvador Novo's poetry from a fellow who sold books on the sidewalk, not too far from the public market in Juárez and a few blocks from my favorite cantina, El Recreo. Novo has that sense of humor perceptible in only a few of his fellow countrymen. His translations of then-contemporary North American poets, and his own poems like "Epifanía" or the English-language "Seamen Rhymes," all seem imbued with a delightful foreignness. Throughout it all, I sensed I was a stranger in a strange land, yet in a region that absorbed "foreignness," a place neither entirely here nor there. That was the tone of much of the poetry I discovered in the Border Region and I felt I could convey it in English. Since then, I have translated and published books by Kyn Taniya and Luis Cardoza y Aragón, as well as Novo, and a novel by J. M. Servín about his wild, undocumented days in New York.
Do you keep up with the work of other translators?
Yes, of course. I am always thrilled by the way David Shook curates new voices, especially from the Spanish-speaking world and from Francophone Africa. Boris Dralyuk's explorations of Russian poetry are inspiring. His essays also open new vistas to names now forgotten. Ana Rosenwong is another brilliant translator of demanding poets like Rocío Cerón. I deeply admire Michael Casper for his work on Yiddish poets like Rikudah Potash, and I thank Piotr Florczyk for introducing me to so many Polish poets. I loved Wendy Burk's recent translation of Tedi López Mills. And, of course, there are the great Forrest Gander, Jerome Rothenberg, Kent Johnson… Some blasts from the past that keep my eyes open in astonishment are the El Cid of Paul Blackburn and the wild American Villon of Stephen Rodefer / Jean Calais. I also need to mention Longfellow's fine rendering of Coplas por la Muerte de su Padre by Jorge Manrique. Again I would like to emphasize that poetry always relies on translations, on the mixing of voices… Perhaps poetry, too, is its own type of border, neither here nor there. As Gorostiza wrote: no es agua ni arena, la orilla del mar. The first great poets in modern English, like Sir Thomas Wyatt, composed poems that were translations of Petrarch. And Petrarch was looking back to the Latin poets, to the verse from Provence…
What do you think are some genres that Bernal would be borrowing from today's world for his verbal fireworks? Does he employ modes of thought and a diction that might have an equivalent for the reader of the 21st century?
I think Bernal would be quite comfortable with today's poetry, and with visual art employing language and collage. Maybe he would have been a painter or an artist today. Actually, at times, his poetry has the barbed and mordant teeth of Hogarth's drawings, especially when he's moralizing. He has a little bit of the Caprichos of Goya, too. In terms of poetry, again, I think of Dorn and Williams. I think of songs like Dylan's "Idiot Wind," or of certain politically charged rap. That is what he would have sounded like in our times.
This book congregates a team of writers and editors around a transnational project. Do you see this as a model for future projects?
Of course. Why not?! Or rather, please let it be so.
Bernardo Jáuregui is a professor at the University of Texas in El Paso. He is the editor-in-chief of the Revista de Literatura Mexicana Contemporanea. In 2003 he founded Bagatela Press, a bilingual independent press.
Anthony Seidman was born in 1973 in Los Angeles and educated at Syracuse University and the University of Texas at El Paso. His list of publications includes several volumes of translations and collections of poems, the latest of which is A Sleepless Man Sits Up in Bed (London: Eyewear, 2016). Throughout his career, Seidman has drawn inspiration from the complex culture of the US-Mexico border region. In recent years he has earned a reputation as one of the most active and versatile translators of Northern Mexican poets.